Gamecaster Web: Telling Our Story and Promise
Gamecaster started as part of the XSplit brand of software but soon grew to take on an identity of its own, and now stands as the ultimate next-generation solution for aspiring live gaming content creators. In October 2020, we've launched our website while also migrating everything else to be separated from XSplit's codebase. Our team worked on ways to tell Gamecaster's own story and its promise through its new website.
My Roles
Design
Creative Direction
Frontend Development
Timeline
September 2020 - November 2021
Link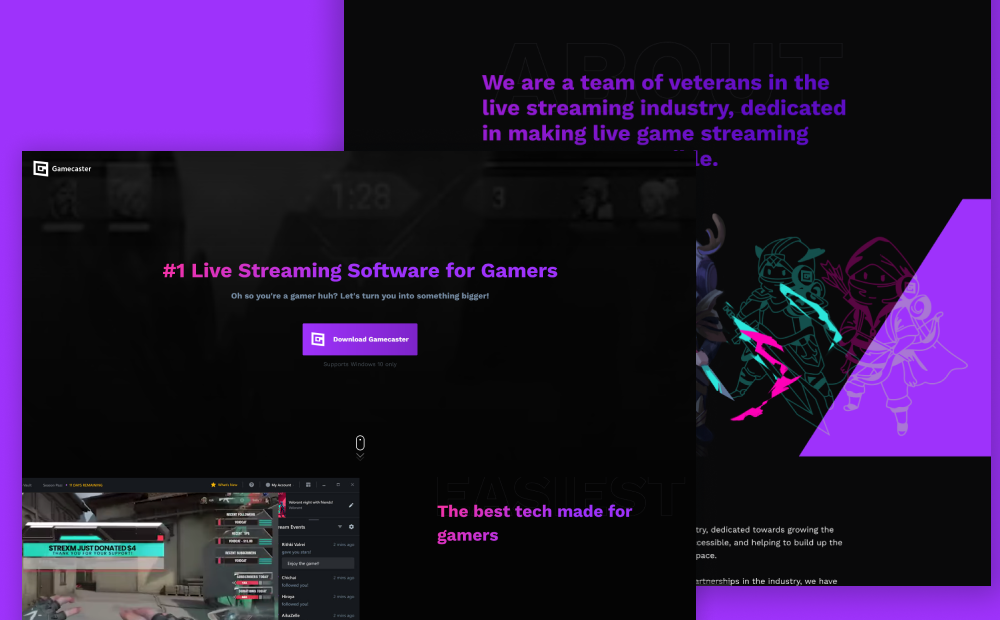 Challenge: How can we make Gamecaster different from the rest?
When Gamecaster was still part of XSplit, it served as the beginner-friendly version of its sibling app, XSplit Broadcaster, which is more aimed at the professional broadcasting audience like ESports broadcasters, Producers, and other professional streamers/broadcasters. Before, the website was pretty straightforward: enumerating some of the most prominent features of Gamecaster. Upon the separation from the XSplit brand, I got onboarded as their Lead Designer and Web Developer in our small team of 12 people. We used this opportunity to expand on Gamecaster's story and establish its own identity, and for it to revolve around gaming.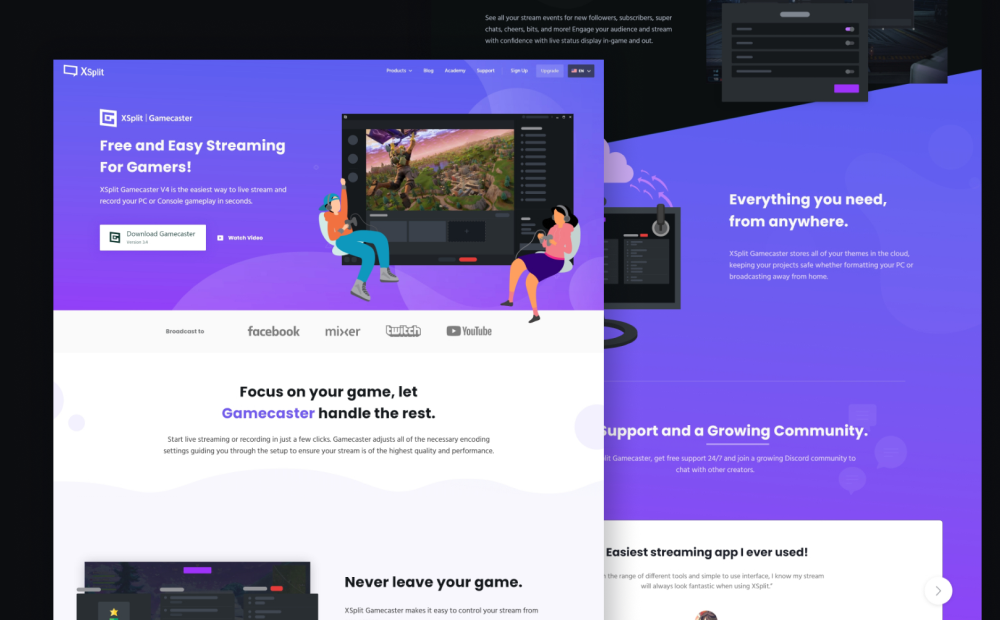 In the world of game streaming, it's hard to get started as a newbie. You are presented with various live streaming apps that can be daunting to a beginner who doesn't have much idea yet on what you need to set up your stream: capturing your audio, camera, gameplay/screen, and some bell and whistles like setting up tipping, reaction and chat alerts from viewers, and other fancy widgets that can help make your stream engaging and entertaining.
Analyzing our competitors
Gamecaster has several competitors both free and freemium. Many of these live streaming apps' websites are focused on features, the same way Gamecaster ver. 2019 is, which is not necessarily wrong, and we could just do that too, but we felt it was lacking in terms of how we can make have a differentiator for Gamecaster.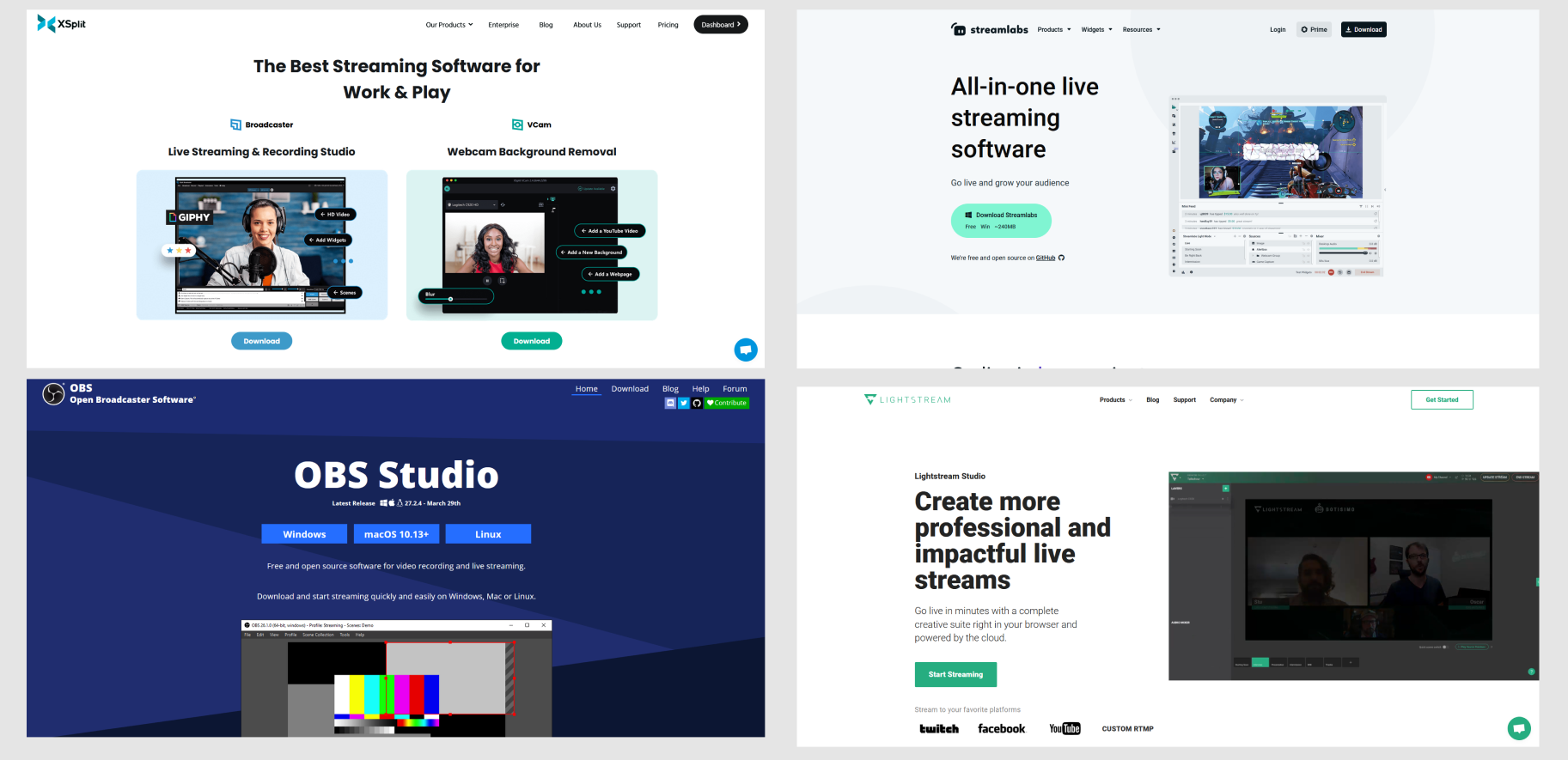 The New Concept: Gamecaster, your partner in your streaming journey
We wanted a slightly different take on what Gamecaster is and what it can do for you by telling a story: Gamecaster being your partner that helps you from being a newbie to growing as a professional content creator, the three main promises are:
Stream. Use Gamecaster to effortlessly stream and give you the tools to get started.
Grow. Grow your audience through our Discovery platform and Tools.
Monetize. Monetize your passion by receiving tips from Gamecaster without fees and get exclusive offers from our various partners.
Still telling content creators what Gamecaster can do, but more importantly, what it can help you become. With this in mind, we made our story and promise revolve around the theme of quests and journeys, and create a friendly, approachable, and unique style for Gamecaster.
Out with the corporate art and explore unique approaches to our illustrations
We started by brainstorming on illustrations while still retaining the purple and pink colors. We were inspired by adventure and role-playing games, and how you usually start from level 1 to being an awesome adventurer. We also tried wireframing the website and how might the illustrations go with the web design.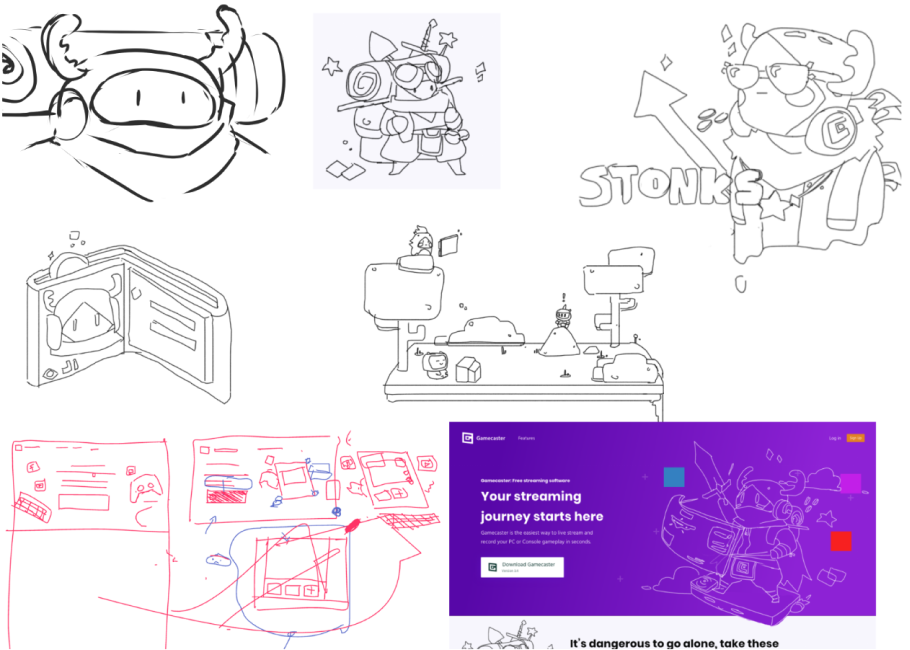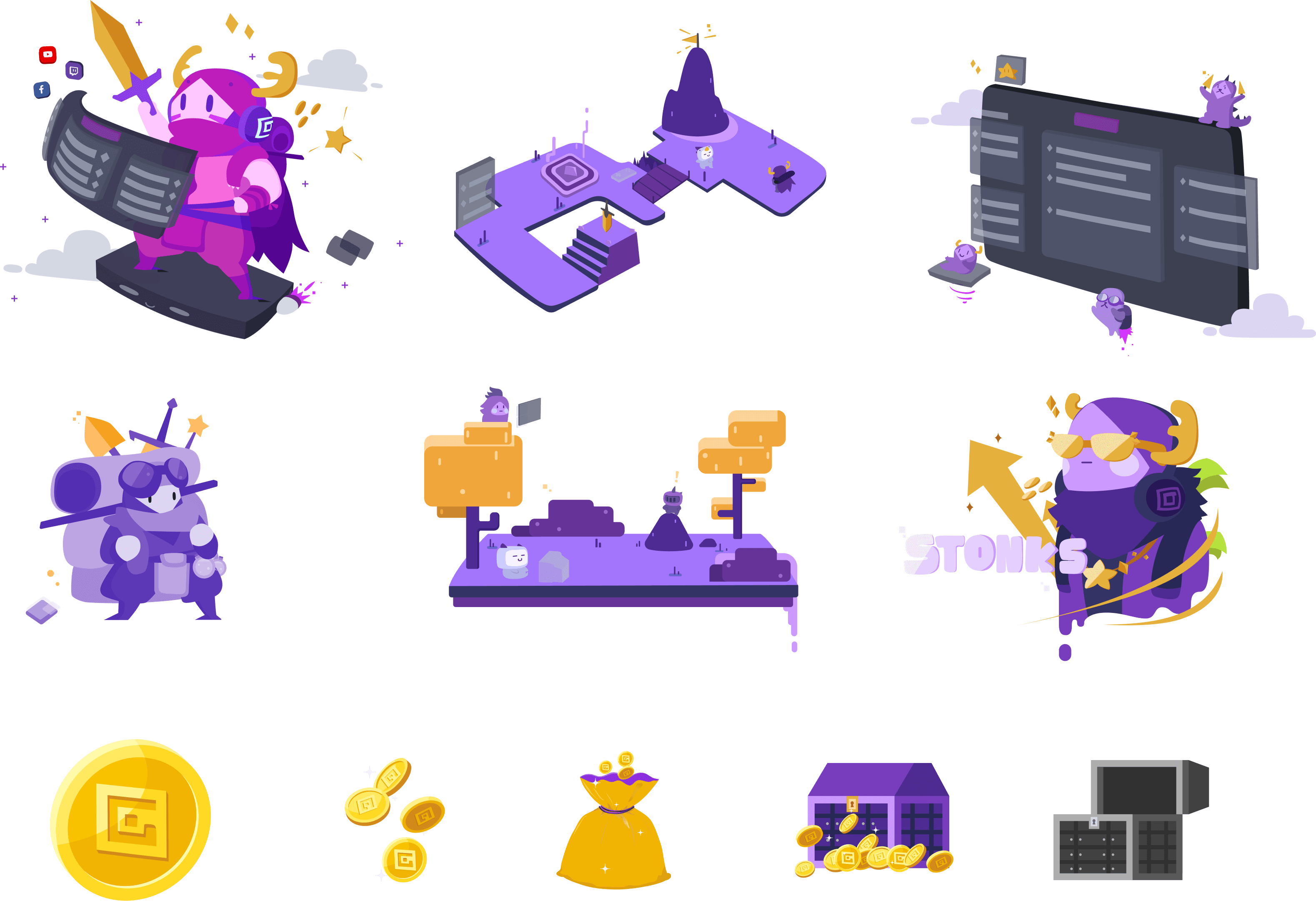 Lots of illustrations might be a lot of work for our design team of two, so we combined 3D into our mix. This stretches up to our promotional videos and product demos on the website. Huge thanks to my teammate and friend Ash Santos for coming up with this style, illustrations, and motion graphics.

Transitioning the new style onto the website
For our first iteration (as an independent company) for the website, we slowly transitioned the initial 2019 style into our new RPG-inspired concept. Some parts were retained while others were improved. Each section covers our goal and promise: Stream, Grow, Monetize. We expanded each section by expanding what Gamecaster can offer for each.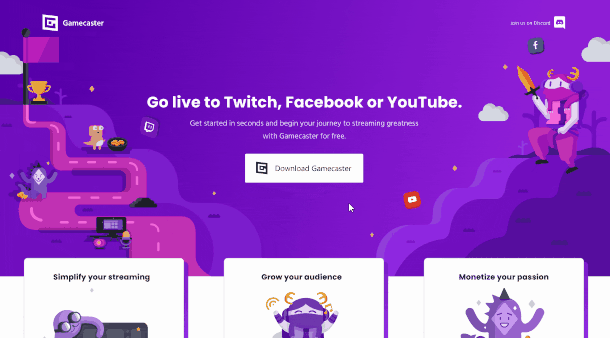 Slowly, we tried to veer away from the bright purple gradient that takes a majority of the top part of the website and explored a combination of dark colors + purple, which is more in line with the current colors of the Gamecaster Desktop app itself.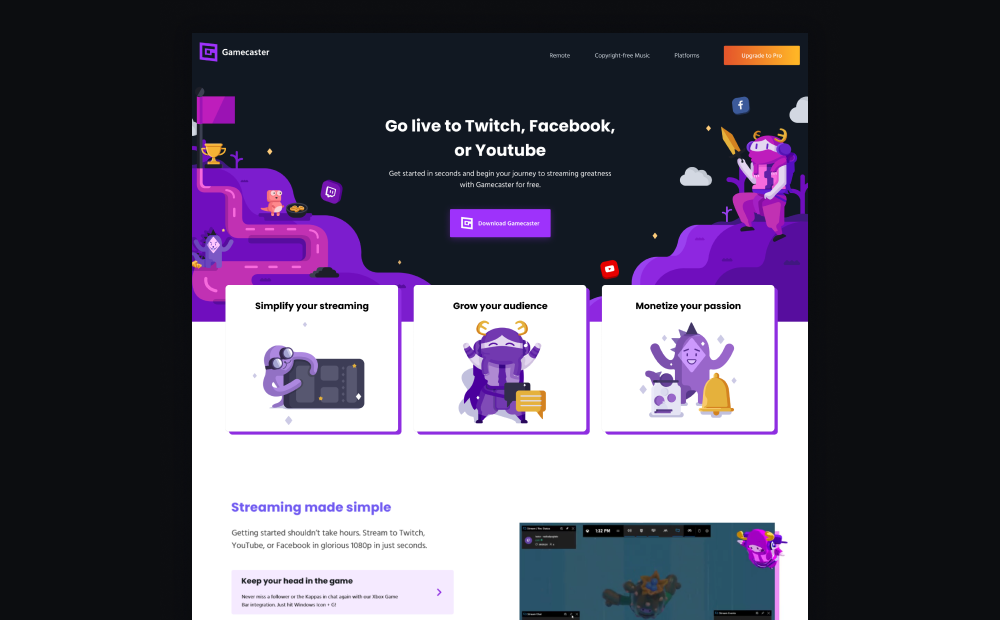 Watch all Gamecasters in the Discovery Platform
As part of our growth strategy, we built the Discovery platform where all Gamecaster streams to Facebook, Twitch, and Youtube are all consolidated in one website. You can visit this at discovery.gamecaster.com, which is accessible from the Gamecaster Desktop app. Here we encourage the Gamecaster community to view fellow streamers, engage with them, and other ways to show support.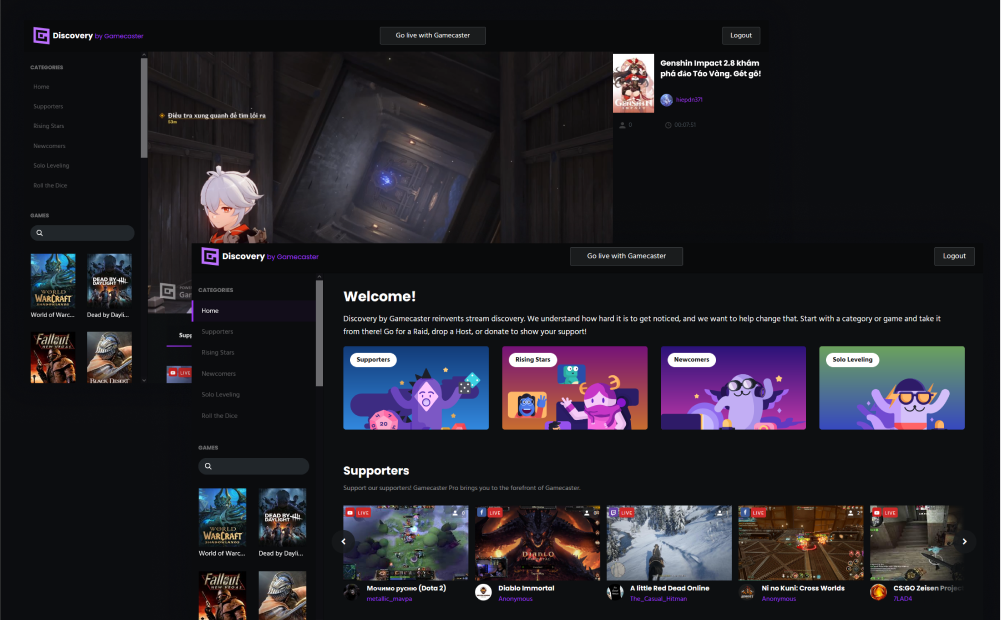 Stumbling blocks along the way
While the new website has been well-received, there were some challenges that we encountered as a company and product.
Monetizing the Gamecaster App
Gamecaster is totally free to use for everyone, but it was also hard to keep it that way. Because of this, we had to strategize and try to monetize Gamecaster through premium subscription and introducing an in-app currency. This of course affected our website's messaging.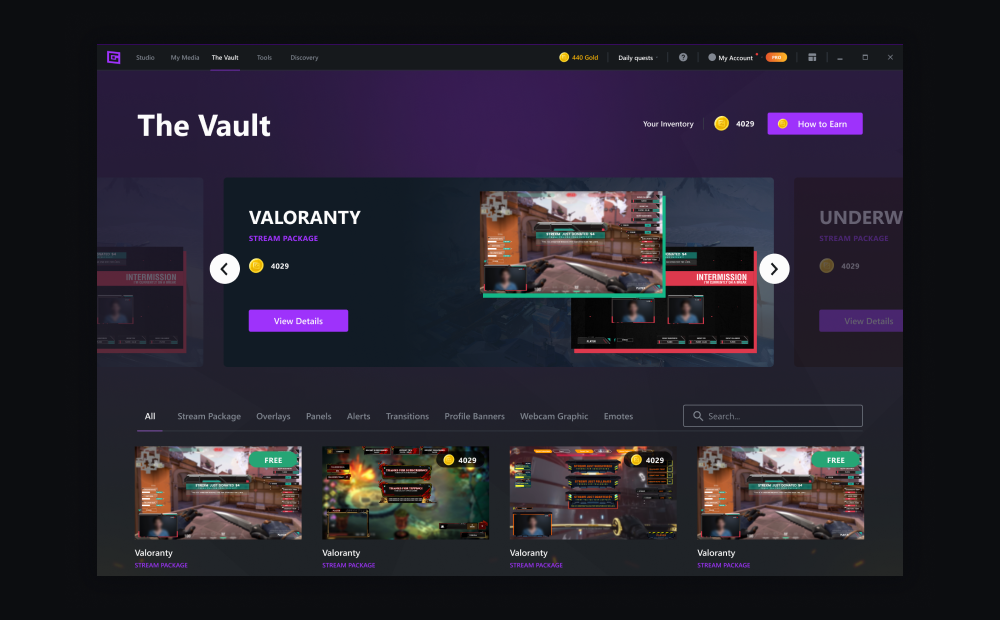 Being a Content Creator is a grind
Gamecaster is one of the easiest streaming apps in the market, but being a successful streamer is not simply achievable through just an app. This is the reality of content creation, which we are aware of from the start. On Twitch, millions of users are still struggling to get views in their streams, with only 0-5 views per stream. This is largely dependent on what kind of content a creator puts out there, and admittedly, it's a grind to get there. This proved to be a great challenge to what we want to achieve for our content creators.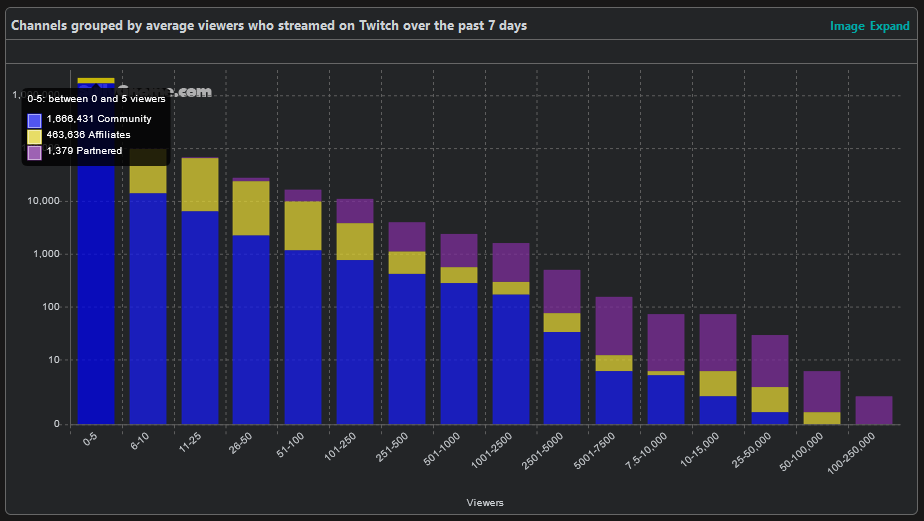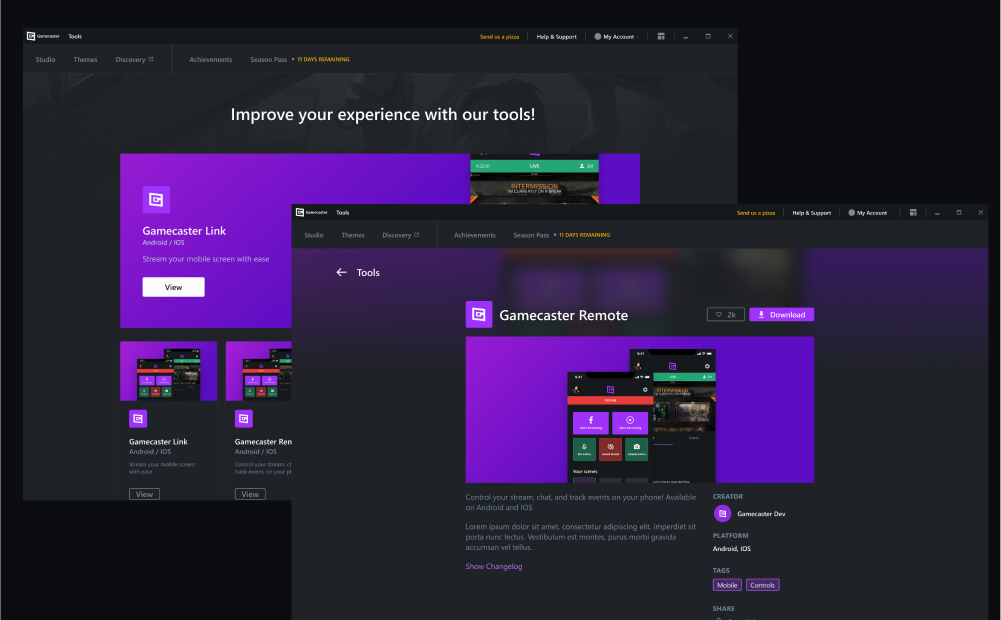 With all these in mind, which we know from the start has always been a challenge but still chose to push for something we believe in, we had to make changes not only in our product strategy but also to our website.
Gamecaster 2021: Still the easiest live streaming app
Stream, Grow, Monetize is honestly a hard promise to keep. While we initially veered away from just stating all the neat features that Gamecaster has, we ended up doing it anyway. But we grouped them accordingly:
Easiest - We still believe the Gamecaster is the easiest live streaming app out there. We showed features that can justify this: Minimal performance impact, intuitive audio mixer, all-in-one chat, events tracker, etc.
Creativity- We'll help you stand out with 100s of our Overlay Packs, our intuitive editor, and offer you a wide set of Widgets that you can use for your stream.
Tools - Ditch the 3rd party apps and use what Gamecaster has to offer such as Gamecaster Remote where you use your phone to control your stream and monitor your chat and Grooves by Gamecaster which is a copyright-free set of music that you can use in your streams.
Story-telling: Show, don't tell
Story-telling is still at the heart of our web design. Instead of just listing features, we wanted to show you how it all flows together by animating the whole story: demonstrate all the features of the desktop app and how they fit with the mobile app.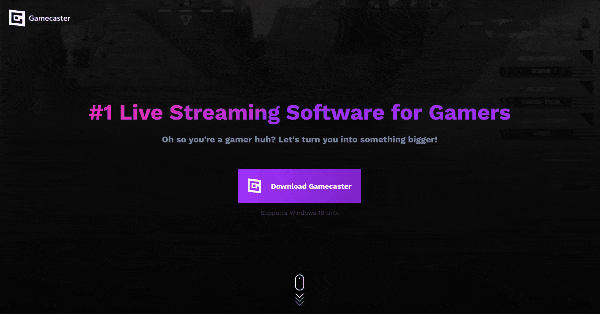 Overall style changes
We've also done some overall style changes to the 2021 version, but still retain our mascot, The Mooseman. Since we've veered away from our journey/quest concept since it was hard to keep that promise, we focused on another area of gaming that encompasses the majority of our content creators: the first-person shooter and competitive streamers. Because of this, we explored a more edgy tone of Gamecaster, taking inspiration from some of the famous FPS games. Thanks to my fellow designer and friend Allen Grace Tabi for these illustrations.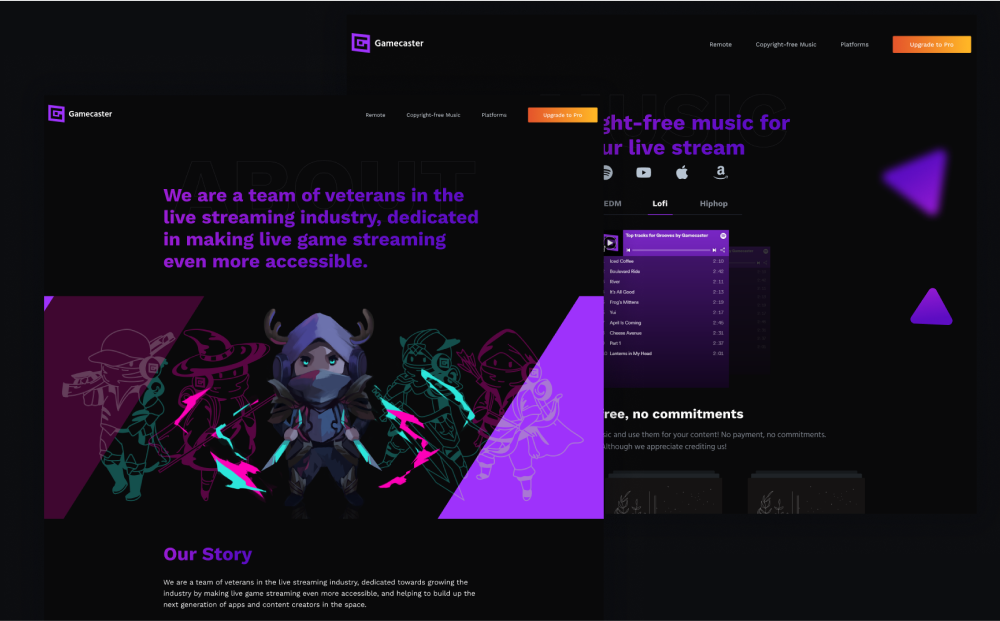 Conclusion
Gamecaster Web was a really fun and insightful project for me. The Design team was given so much creative freedom with it. Though there were a few challenges along the way, we still managed to tell a compelling story of what Gamecaster may offer.
---