My Workspace (as of Jan 2022)
Making my WFH space work for me.
---
A lot has changed since I started working 8 years ago up to now. From a small table and a laptop under the stairs of our ancestral home to an ergonomic and comfortable workstation in my own space. Looking back and seeing these photos made me realized that though it took some time to get to where my workspace is now, I'm happy that it evolved with me.
My space always evolves as I find out more about what works for me and what else I need to be productive. I wanted something that can cover my needs as a designer/developer, artist, and gamer. I will continue to update this post as I make changes to my workspace.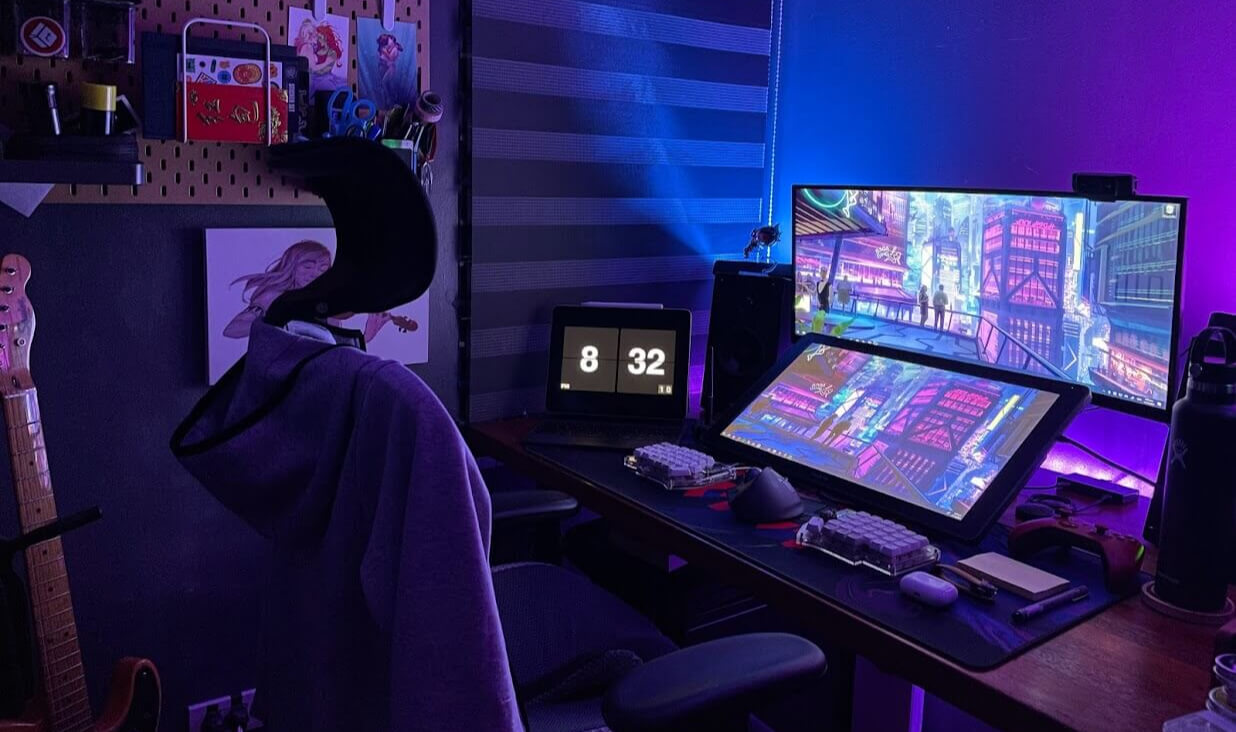 The Build
Let's start with what powers the whole setup. Throughout my design career, I've always defaulted to using macOS for all my design work, but I needed a something that can play various games, and with major tools that are now available for both Windows and macOS such as Figma and dev environment setups with WSL2, macOS doesn't really offer me much at the moment so I switched to PC. My PC was built before the release of the RTX 30 Series, so luckily I didn't have to deal with the surge on video card prices.
I assembled my PC and got help from my friends to check on specs and compatibility. Here's my build:
Motherboard: B550 Aorus Pro
CPU: Ryzen 5 3600
AIO: NZXT Kraken z63
Video Card: Gigabyte RTX 2070 Super Windforce
RAM: G.Skill Trident Neo 16gb
Power Supply: Corsair TX850 80+ Gold
HDD: Seagate Barracuda 2tb ST2000M008
SSD: Team Lite L5 SSD 480gb SATA
UPS: APC Back-UPS 1100VA
Case: NZXT H510
Another Machine: My iPad
I love my workspace but there are times that I would need a change of environment. Whether that's in a cafe or anywhere else inside the house, the 12.9 iPad Pro M1 has been a perfect second machine for when I want to work, sketch, or just watch Netflix/Youtube.
The Ergonomic Keyboard and Mouse
Because of my carpal tunnel syndrome, I invested on making my space as ergonomic as possible. I've built and tried several mechanical keyboards trying to find what works for me in both function and form, and split keyboards won my heart.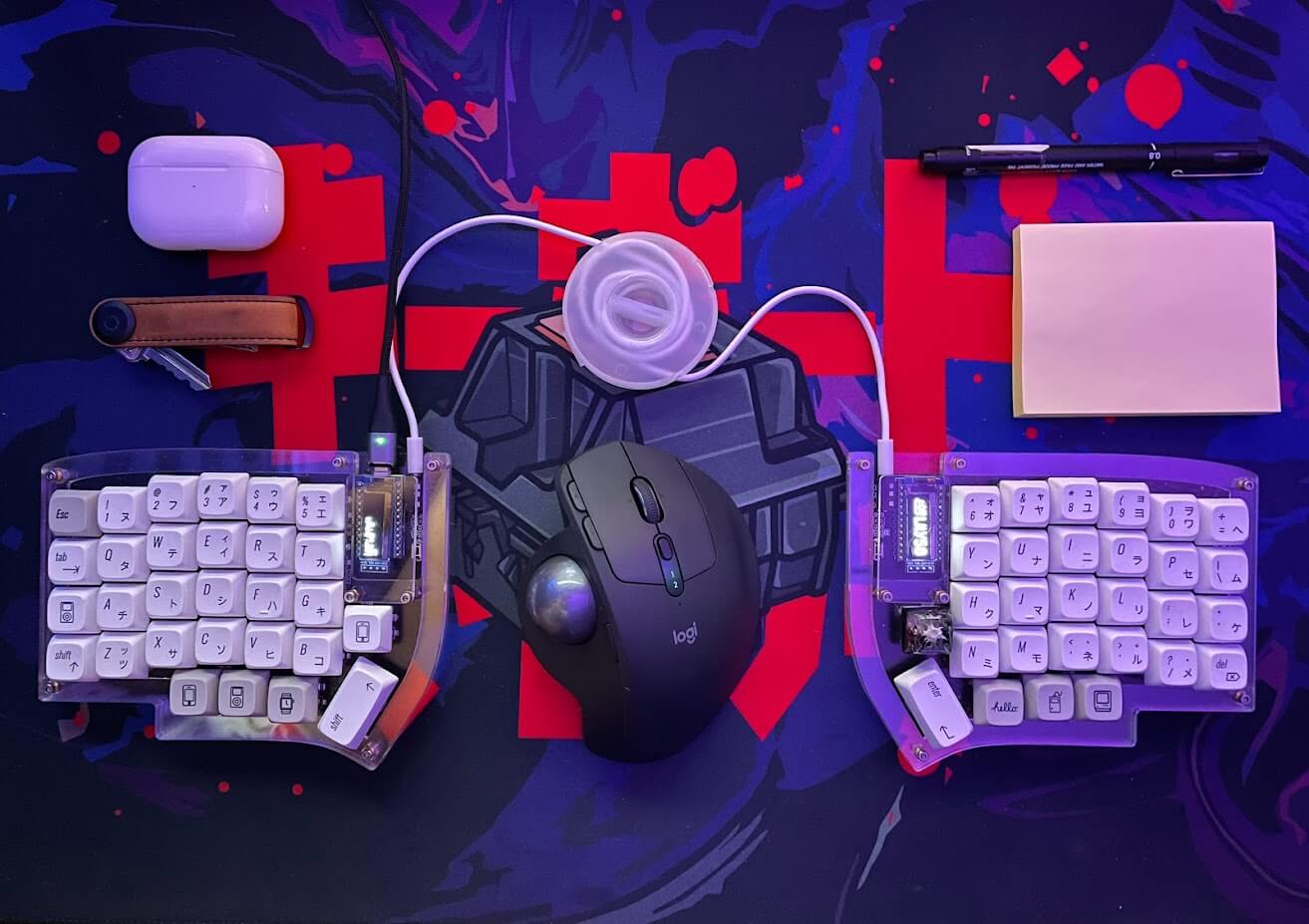 Lily58 Pro Split Keyboard
A custom split mechanical keyboard I bought from Next Keyboard Club which I saw in Tambayan404. Here are some of the key features I love:
Split type format that allows my hands, arms, shoulders to align properly in a relaxed typing position.
Ortholinear layout where the keys are aligned in columns, making it easier to navigate around your keys.
Programmable in VIA and can support multiple layers and macros. On other layers, I would set up media controls, digital painting shortcuts, and hide away keys that are not often used.
I also made sure that my key switches are at a low actuation so that there won't be much pressure on my fingers as I type, so I went with Everglide Sakura Pink 35g linear switches lubed with Krytox 205g0 for a smoother typing experience. For the keycaps, I went for NP PBT Japanese, no particular reason. I just find them cute.
Logitech MX Ergo
I went for a trackball to lessen wrist movement. Sadly I can't play FPS games anymore but I can try with the Logitech MX Ergo 😂 The MX Ergo provides a comfortable tilt angle and a long battery life. When they said 1 minute of charge can give you 24 hours of use, they mean it. Navigating with the trackball using your thumb might take some getting used to, but it's a trade off I'd choose to lessen wrist flicks when using a usual mouse.
The Displays
My displays cater to my gaming, design, and art needs. It was hard to find an IPS ultrawide display without breaking the bank, so I went with dual display monitors for different purposes.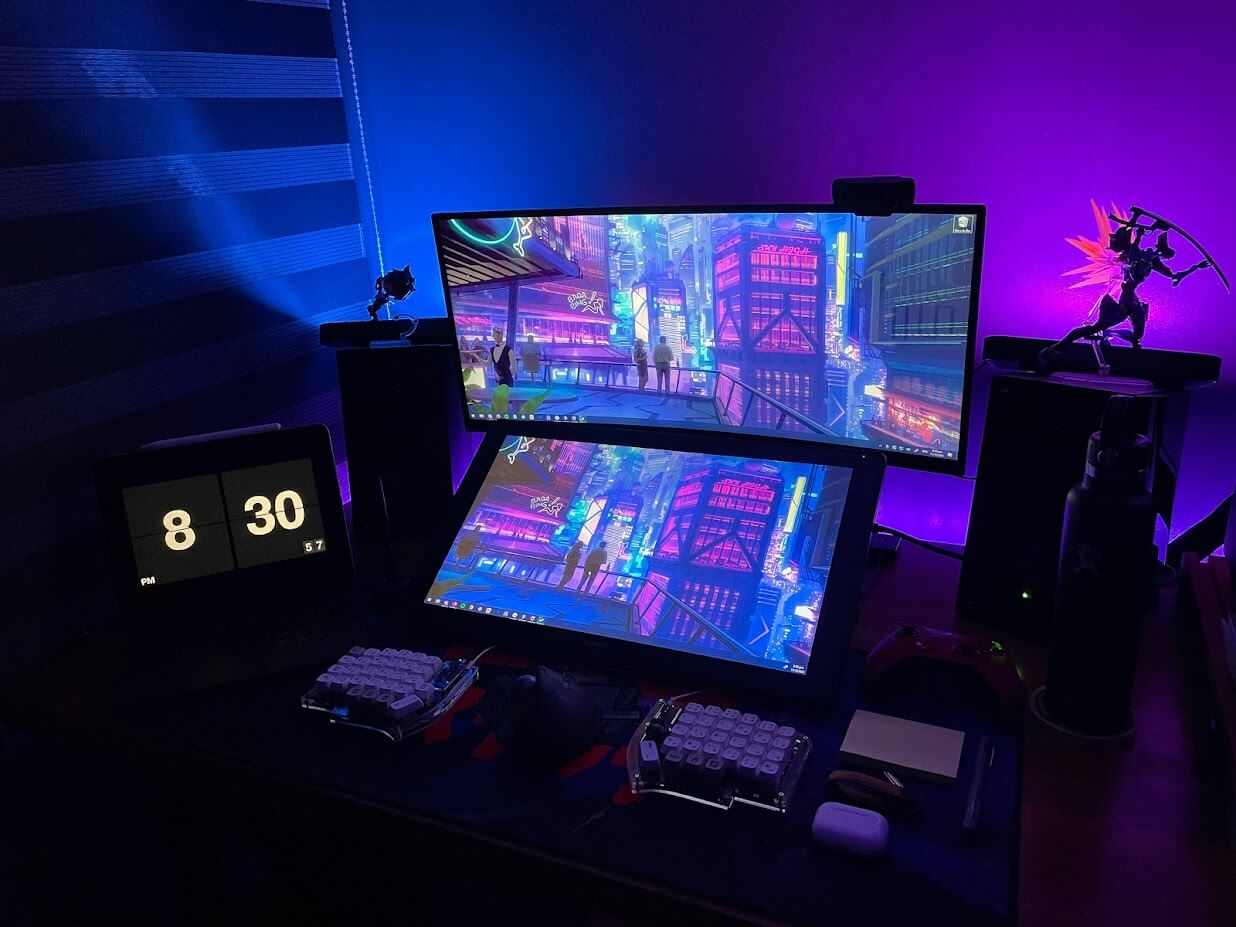 SpecterPro 30UW200 30" 200Hz Curved Gaming Monitor
For just around Php13,000 ($255 USD) at EasyPC, SpecterPro 30UW200 gives a very high refresh rate of 200hz and a wide resolution. The only downside is it's a VA Panel, so colors are a bit off for design work.
Huion Kamvas 22 Plus
The Huion Kamvas 22 Plus is where most of the design and art happen. Huion made pen displays accessible by selling it at a very low price compared to Wacom, which has been the leading pen tablet/display for years. With a 140% sRGB color gamut and IPS display, it compensates for the lack of vibrance of the SpecterPro UW. It comes with a battery-free, pressure and tilt sensitive pen that makes drawing on a screen a breeze, an anti-glare matte film etches class that keeps it clear under the light, and has a sturdy stand that can be adjusted to any angle or replace it and use a different arm mount via the 75mmx75mm VESA mounting holes.
The Desk and everything else
I think what makes my workspace better than it was is the End Game Table by Iron Meets Wood. They are a local craftsmen that has masterfully made various woodworks for workspaces. The table is 150cmx75cm made of solid mahogany which sits on a black steel frame. It's quite on the pricier side but the quality and longevity of the table makes it worth it.
Audio
Steelseries Arctis 7 Headset - a wireless gaming headset with a physical mute button for the mic which is very handy for video calls (so you don't accidentally say something on mic lmao) and a ChatMix Dial which basically controls the game and chat volume separately, which is perfect for when you want the voice chats louder than the game or vice versa without having to adjust your in-game or chat app's volume.
Edifier R2000DB - I'm not much of an audiophile so I can't say much about the Edifier R2000DB. It has a solid sound, multiple input sources, and luxurious design that adds a great look on my desk.
Others
Cable management - 3M Command Strips to stick the power outlet underneath the table, severalcable management adhesive clips and cable sleeve to hide away wires.
Lighting - Xiaomi Yeelight Strip, Philips Hue Light Bar
Deskmat - Alexotos x TKC Switch Swirl from TheKeyCompany
Controller - XBox One Controller + Rechargeable battery pack
Monitor Mount - NB North Bayou F80
Desk Clock - Divoom Ditto
---